PET Bottle Carbonated Water Filling Line
From production to your hands, our PET Bottle Carbonated Water Filling Line ensures nothing but crisp, refreshing bubbles in every sip
We can provide a complete solution for carbonated beverage production lines, including bottle blowing and compressed air systems, filling systems, labeling systems, and packaging systems. Our solution will cover the entire production process, from the initial bottle creation to the final packaging of the finished product. Our team of experts can assist with the design, installation, and maintenance of each component of the production line to ensure a seamless and efficient production process. Contact us today to learn more about our comprehensive carbonated beverage production solutions.
Main Products introduction ​
Our linear blow molder is a highly versatile system that can produce various types of PET bottles with consistent quality. Ranging from 4 to 12 cavities, our machine uses the bi-orientation blow molding principle and features all-electric drives and continuous motion for high productivity, low energy consumption, and flexibility. With simple modifications, our machine can produce standard bottles, custom bottles for cosmetics, detergents, and chemicals, bottles with nature handles, small bottles for pharmaceutical products, and lightweight bottles with lightweight necks.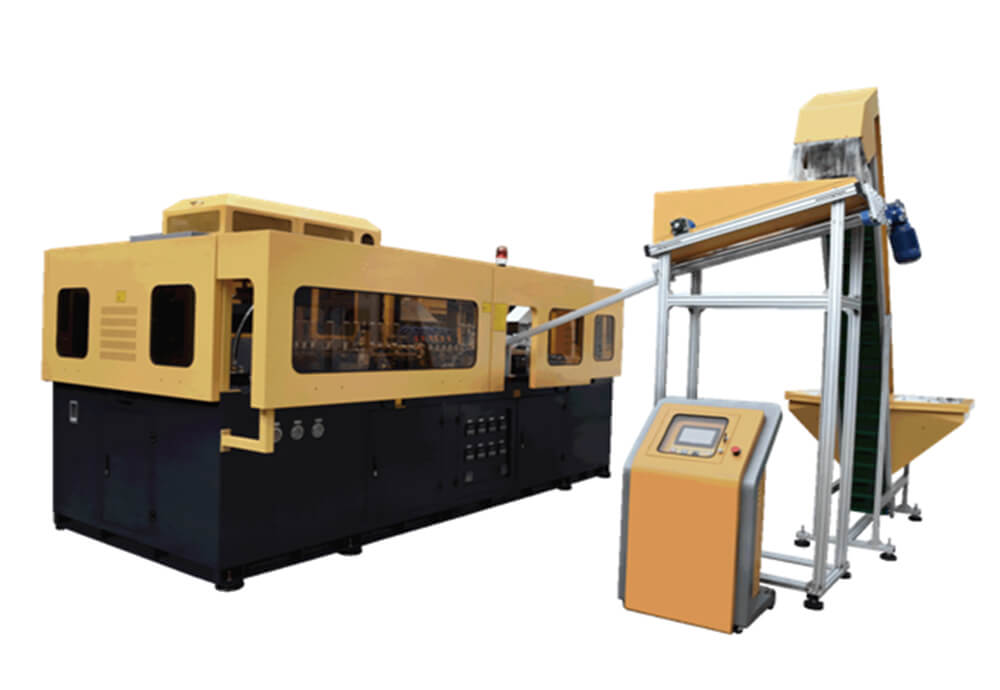 Our air conveyor is designed with horses on the ground and an air fan mounted above it. Every fan is equipped with an air filter installed in the door to prevent dust from blowing into the bottles. The bottles are supported by a neck carrier plate and transported into the filling monoblock for further processing. With this efficient design, you can trust that your bottles will remain clean and ready for use.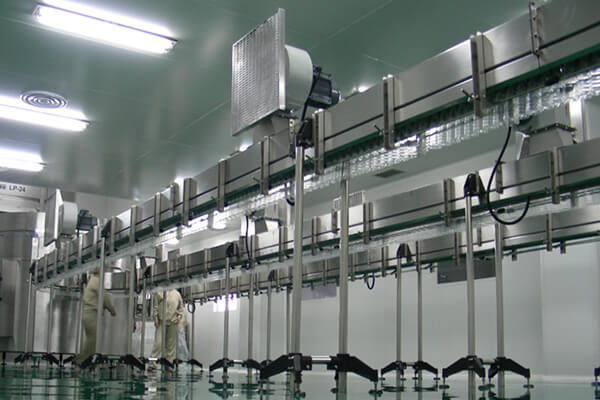 PET Bottle Filling Machine
Our carbonated drink filling machine is designed specifically for PET bottles and combines rinsing, filling, and capping in one efficient process. With advanced technology and a stable design, this machine not only functions seamlessly but also has an attractive appearance. Trust that this machine will provide complete and reliable performance for your carbonated drink production needs.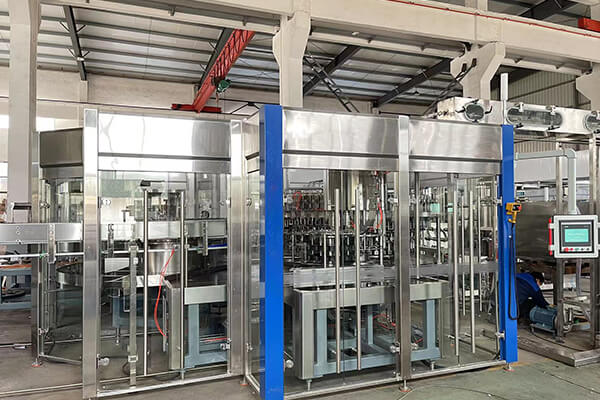 Water Spraying and Warming Tunnel
Water Spraying and Warming Tunnel machine is a newly-designed equipment that incorporates advanced technology from abroad. The machine uses circular water in various warming sections to gradually warm the filled bottles. With an inverter, the machine's speed can be adjusted according to the customer's specific requirements, making it suitable for warming all kinds of cold materials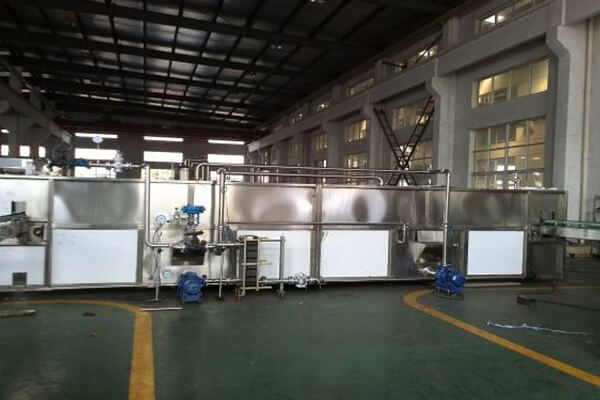 Linear Hot Melt BOPP Labeling Machine
The linear hot melt OPP labeling machine applies OPP labels onto containers using a hot melt glue system. It operates at high speeds and can be customized to fit round container shapes and sizes. It's commonly used in the food, pharmaceutical, and cosmetic industries.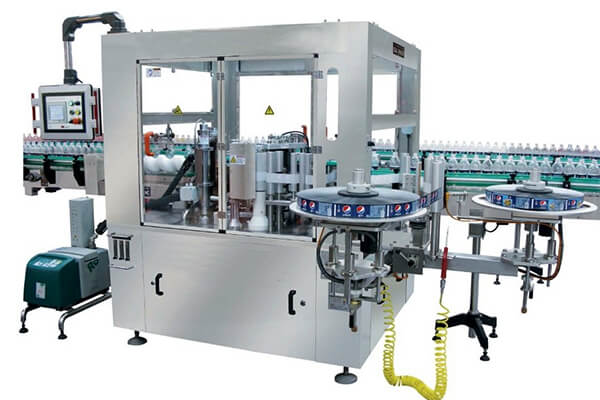 PE Film Shrink-wrapping Machine
The drying machine uses a vortex air pump to generate pressure, which is then directed through high-speed wind curtains created by air knives with hair spikes. This high-speed air flow effectively removes moisture from bottles, making them ready for labeling and packaging. The machine is made of 304 stainless steel, ensuring that it meets food hygiene requirements.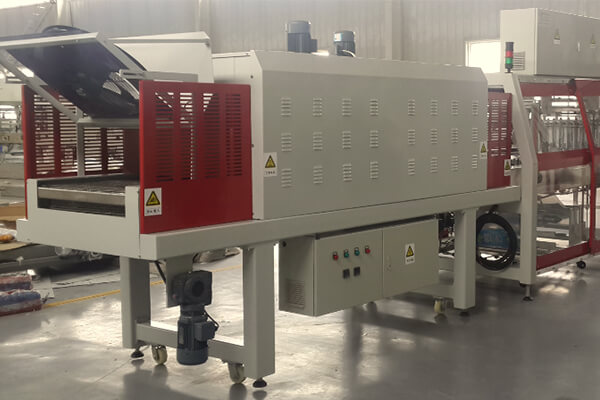 Filled Bottle Conveyor System
A conveyor belt is designed with modular components, allowing for easy interchangeability. The structure is compact, producing minimal noise, and can be easily assembled and maintained. Additionally, the conveyor belt offers flexibility, enabling different bottle types to be accommodated according to varying capacity requirements.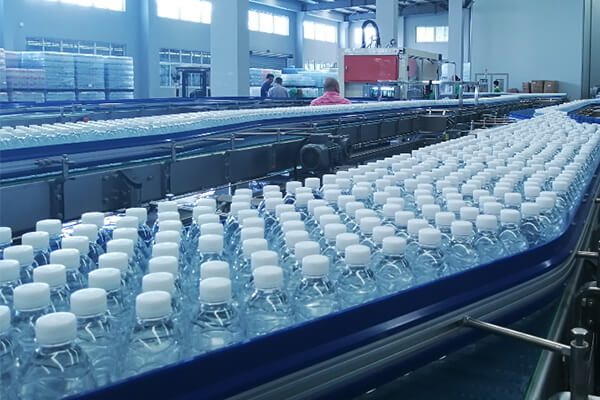 The CO2 mixer is a versatile machine designed for the mixing and processing of various carbonated drinks, as well as pulp-based and fermented beverages. It features a GOB system that facilitates the vacuum oxygen degassing process and allows for the synthesis of sterilized water, CO2, and sugar in precise proportions as per customer specifications.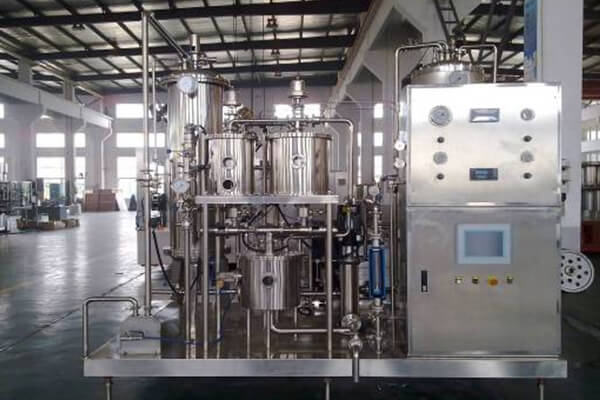 What can we do improve your production line?
Upgrade and maintain existing production line equipment: Ensure that the production line is equipped with the latest technology and equipment, and that the equipment is well maintained and in optimal condition. Regularly upgrade and maintain equipment to ensure maximum efficiency and reduce downtime.
Optimize production line layout: Optimize the production line layout to reduce unnecessary material movements and improve the flow of the production process. This will reduce the time required to produce products and increase efficiency.
Implement automation: Consider incorporating automation into the production line to reduce labor costs, improve efficiency, and quality. Automation can help reduce errors and improve consistency in the manufacturing process.
We were hesitant to invest in an automated packaging solution, but Packmaster has exceeded our expectations with the cartoning machine. It has significantly improved our production efficiency and reduced labor costs. The machine is also very reliable, and we have experienced minimal downtime.
As a startup in the craft beer industry, we needed reliable and affordable equipment to get our business off the ground. Your filling and labeling machines have been a great investment for us. The machines are easy to operate and maintain, and the quality of the output is excellent. We appreciate the customer-centric approach of your company.
We are a fast-growing e-commerce company that requires efficient packaging solutions. Your company's box erector, packer, and sealer machines have helped us keep up with our expanding business. The machines are user-friendly, and the training we received was comprehensive. We have also received timely support from your team when needed.
We had specific requirements for our packaging line, and your company provided customized solutions that met all our needs. The flexibility and willingness to work with us to achieve our goals were impressive. The machines have been operating smoothly since installation, and we appreciate the support we receive from your team.
We operate in the cosmetics industry, where packaging plays a critical role in attracting customers. The labeling and capping machines from your company have helped us achieve the high-quality packaging we strive for. The machines are versatile and can handle different bottle sizes and shapes, which has been a great advantage for us.
The box erector and sealer machines from your company have improved our packaging process by leaps and bounds. We used to rely on manual labor for these tasks, which was time-consuming and prone to errors. With your machines, we have seen a significant increase in productivity and accuracy, and the machines have paid for themselves in a short time.