Maximize your production potential with our space-saving and customizable mineral water production line solution
We specialize in providing tailored solutions for drinking water production lines, from water treatment and blow molding to filling, labeling, and packaging. Our solutions prioritize efficiency, productivity, quality, and safety while being customized to meet each client's unique needs. With our industry expertise and experience, we deliver reliable and cost-effective water production line solutions to help our clients achieve success.
Main Products introduction ​
Linear Blow Molding Machine is a highly advanced PET blower that utilizes the latest bottle blowing technology to deliver speedy, stable, and environmentally safe performance.
It is ideal for blow molding PET containers used in drinking water, beverages, food, daily chemical products, and more.
With high efficiency and abundant yields, each cavity can now produce 1750-1600 bottles per hour for bottles that are equal to or less than 0.6L, satisfying the needs of high-end customers.
Equipped with an automatic preform loading system, our machine operates fully automatically, ensuring consistent performance and high speed throughout the entire process without any operator interference.
This significantly reduces the risk of contamination, ensuring top-quality products every time.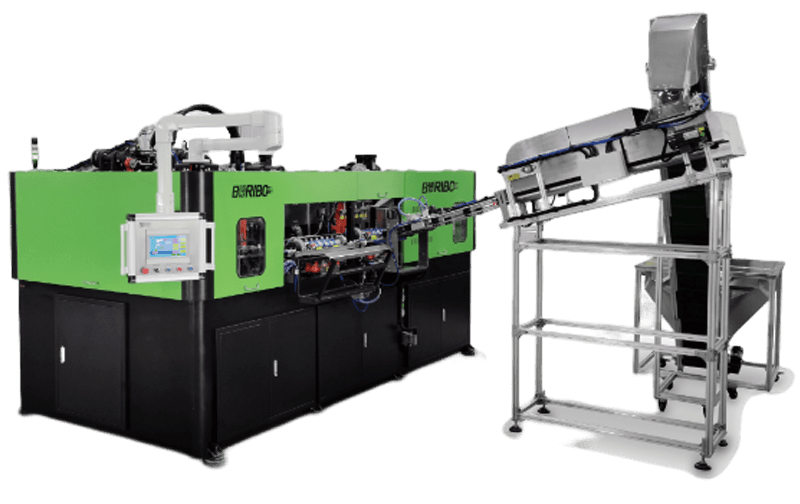 Our three-in-one filling machine starts by air-conveying the bottle into the rinsing section, where the gripper on the rotary disk turns it 180 degrees to face the bottleneck downwards.
The nozzle then sprays clean water to rinse the inside of the bottle before it is drained and turned back 180 degrees to face the bottleneck upwards.
The rinsed bottle is transferred to the filling section via a poking bottle star-wheel, where it is held by a neck holding plate and filled using a pressure filling valve that moves up and down.
Once filled, the bottle is transferred to the capping section using a hold neck transition poking wheel, where it is held upright by a stop screwing knife and capped using a screw capping head that catches, presses, screws, and discharges the bottle using a cam action.
Finally, the full bottle is transferred to the bottle outlet conveyor via a poking wheel. The entire machine is enclosed with windows that have a height greater than the peak of the three-in-one machine. The bottom of the enclosed window features a return air outlet.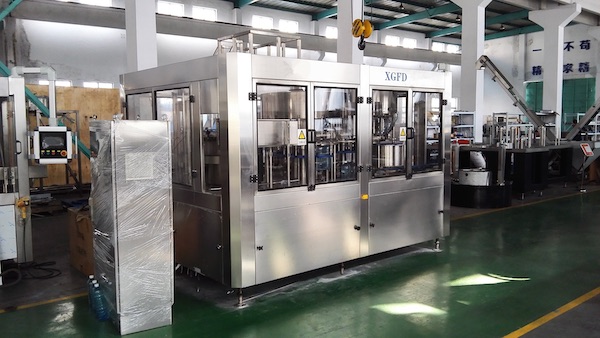 Shrink Sleeve Labeler Machine
The high-speed rotary hot melt adhesive labeling machine applies hot melt adhesive to labels which are then precisely affixed onto products as they pass through a series of rollers.
The machine operates at high speeds and is environmentally friendly and safe for use on food and beverage products.
It also has advanced sensors and control systems to ensure accurate and reliable labeling, and is versatile enough to handle a wide range of product shapes and sizes.
The machine is designed to be easy to operate and maintain, with minimal downtime for cleaning and maintenance.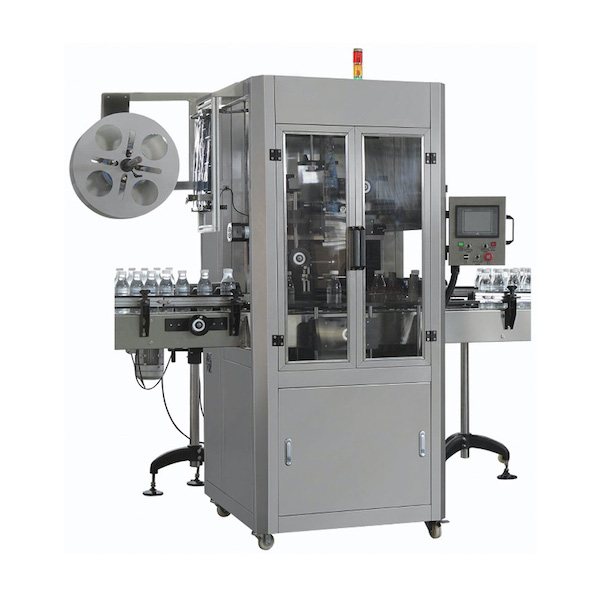 The auto film wrapping machine has been developed using cutting-edge technology to meet the packaging needs of the beverage industry, including pure water, mineral water, juice, and soft drinks.
Its automated wrapping system, combined with a high-quality shrink tunnel, ensures a perfect and seamless packaging process.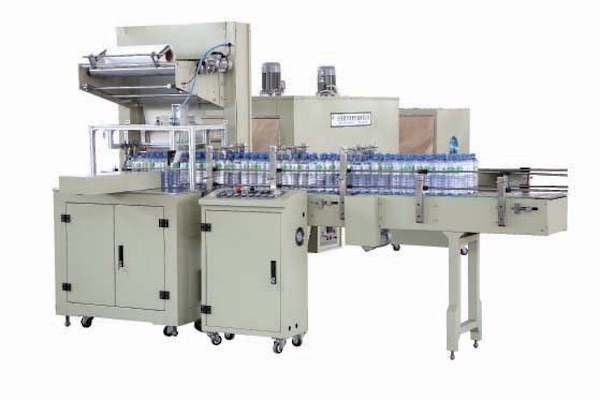 The drying machine uses a vortex air pump to generate pressure, which is then directed through high-speed wind curtains created by air knives with hair spikes.
This high-speed air flow effectively removes moisture from bottles, making them ready for labeling and packaging.
The machine is made of 304 stainless steel, ensuring that it meets food hygiene requirements.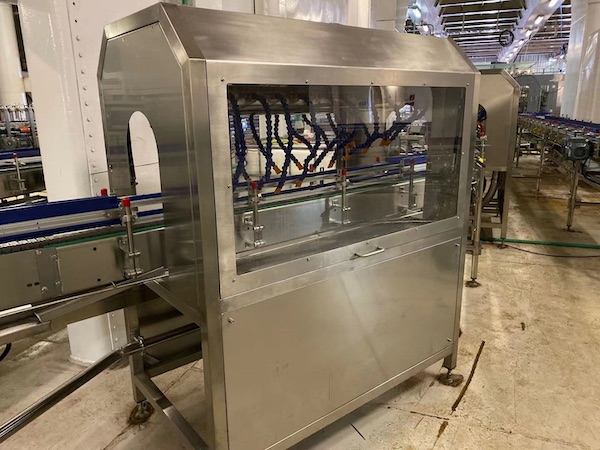 What can we do improve your production line?
Upgrade and maintain existing production line equipment: Ensure that the production line is equipped with the latest technology and equipment, and that the equipment is well maintained and in optimal condition. Regularly upgrade and maintain equipment to ensure maximum efficiency and reduce downtime.
Optimize production line layout: Optimize the production line layout to reduce unnecessary material movements and improve the flow of the production process. This will reduce the time required to produce products and increase efficiency.
Implement automation: Consider incorporating automation into the production line to reduce labor costs, improve efficiency, and quality. Automation can help reduce errors and improve consistency in the manufacturing process.
We were hesitant to invest in an automated packaging solution, but Packmaster has exceeded our expectations with the cartoning machine. It has significantly improved our production efficiency and reduced labor costs. The machine is also very reliable, and we have experienced minimal downtime.
As a startup in the craft beer industry, we needed reliable and affordable equipment to get our business off the ground. Your filling and labeling machines have been a great investment for us. The machines are easy to operate and maintain, and the quality of the output is excellent. We appreciate the customer-centric approach of your company.
We are a fast-growing e-commerce company that requires efficient packaging solutions. Your company's box erector, packer, and sealer machines have helped us keep up with our expanding business. The machines are user-friendly, and the training we received was comprehensive. We have also received timely support from your team when needed.
We had specific requirements for our packaging line, and your company provided customized solutions that met all our needs. The flexibility and willingness to work with us to achieve our goals were impressive. The machines have been operating smoothly since installation, and we appreciate the support we receive from your team.
We operate in the cosmetics industry, where packaging plays a critical role in attracting customers. The labeling and capping machines from your company have helped us achieve the high-quality packaging we strive for. The machines are versatile and can handle different bottle sizes and shapes, which has been a great advantage for us.
The box erector and sealer machines from your company have improved our packaging process by leaps and bounds. We used to rely on manual labor for these tasks, which was time-consuming and prone to errors. With your machines, we have seen a significant increase in productivity and accuracy, and the machines have paid for themselves in a short time.